Hype
News
Awards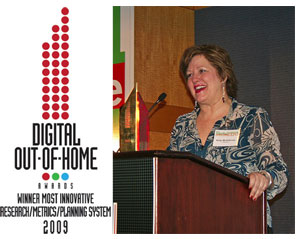 2009 MediaPost Digital Out-of-Home Award
for Most Innovative Research/Metrics/Planning System for Peoplecount Pedestrian Model,
TAB Eyes On Ratings
Testimonials
In one of my roles as a member of the Technical Committee of the US TAB initiative, which is working to bring reliable audience measurement to the whole of the US market, I have been working for some years with the team from Peoplecount to develop a crucial piece of the US industry model.
The team at Peoplecount consistently impressed me with the breadth of their understanding and technical expertise in the area of mobility. They delivered timely solutions to problems we posed them and worked in considerable harmony with our committee.
In a project of this scale it was a great benefit to have such a flexible and imaginative team delivering this measurement expertise, and refreshing to obtain this both on time and on budget. I am sure I will be using Peoplecount`s expertise in other markets around the world in the future."
– Neil Eddleston, Managing Director, JCDecaux, London, UK
I am delighted to offer the highest commendation to any company considering Peoplecount for a major project. Kelly McGillivray worked very closely with the Traffic Audit Bureau on their new pedestrian count database which was delivered on time and on budget. This now forms a cornerstone to the Eyes-On ratings for 200+ DMAs expected to be released to the industry by TAB shortly."
– Tony Jarvis, Independent Research Consultant, New York
NEWAD Media has hired Peoplecount multiple times, initially to develop COMB-approved methodologies for three indoor advertising networks: Restaurant/Bar, Health and Fitness Club and College/University Campus. We have subsequently hired Peoplecount on two more occasions to update the circulations, again working closely with COMB.
The methodologies developed by Peoplecount were, in fact, technically sound and innovative, allowing NEWAD to win a CMDC Media Innovation Award for Marketing Science Advancement. Peoplecount has respected the timelines and budget agreed upon for these projects. They are professional and knowledgeable."
– Philippe Marchessault, Executive Vice President and General Manager, NEWAD, Montreal
Zoom Media has worked with Peoplecount on updating our circulation for three of our indoor networks and we have been very satisfied with the professional approach and quality of work provided to us. We have once again selected Peoplecount to provide revised circulation for our networks this year and look forward to working together again."
– Andy Querin, President and Chief Operating Officer — Canada, Zoom Media, Toronto
Kelly has years of experience in the Out Of Home Measurement business. This experience has brought her a depth of knowledge that is un-matched in the industry."
– Kim Moran, Former COO/CFO, Gallop & Gallop Advertising, Toronto